Progress through partnership
Important support to achieve these goals was successfully sought from the French organization, Aides aux Jeunes Diabétiques (AJD). AYD implemented a diabetes education program that was developed in France by AJD, and obtained the right to use the printed material, 'Les Cahiers'. These educational stories, which were translated, re-named 'Sukar Mazbout' , and adapted to reflect Middle Eastern culture were used successfully in the education of children with diabetes and their parents.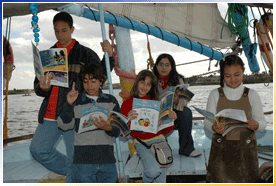 A strategic plan for the establishment of centers for diabetes education was formulated. Revenue from successful fund-raising activities enabled AYD to set up the first diabetes school in Cairo. Sets of illustrated booklets were printed and the first training course for children took place in June 2002. The centre was immediately successful: rapidly growing numbers of children from a wide range of socio-economic family backgrounds sought diabetes education with AYD. Three physicians, themselves parents of children with diabetes, offered diabetes education in simple and appropriate language and, when necessary, were able to provide parents with emotional and psychological support – particularly during the difficult period after diagnosis.
A further important step was taken in 2003 with the introduction of a "mobile unit": A four-person team – diabetes educator, social worker, psychologist and a dietitian – that traveled to two major University Hospitals in Cairo: AboulReeshe and Demerdash Hospitals where diabetes care is delivered to large numbers of children. Regardless of their socioeconomic status, children in these hospitals and their parents had access to free diabetes education and psychosocial support. Furthermore, AYD established a network of links with a number of religious communities to provide financial and social support to low-income families.
Active learning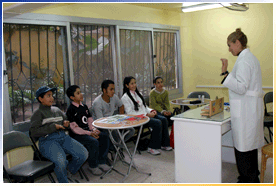 Children with diabetes have the same affective and developmental needs as children without the condition. Therefore, AYD put as important emphasis is on recreation and play. One-day educational camps were organized in which children with diabetes were coached to acquire the knowledge and develop the skills they need to become independent with the support and guidance of a multi-disciplinary diabetes team. Sixty-two camps were organized and provided the opportunity for hundreds of children to receive education in self-care, such as learning about the ways in which exercise affects blood glucose levels and techniques to regulate insulin intake.
The Association made it possible for children with diabetes to join sport centers where they received coaching, under the guidance of a medical educator in different sports, such as karate, swimming and tennis. Facilitated by AYD, peer support groups for adolescents became popular in which young people with diabetes exchanged views and experiences, with the support, where necessary, of an experienced psychologist.
To date, the achievements of AYD have surpassed initial expectations. Over 1200 children with diabetes attended the educational course at the diabetes school in Cairo and over 900 children received diabetes education in two large university hospitals in Cairo.